s long as rock climbing has been a sport, climbers have sought a balance between preserving challenge on the one hand and maintaining an acceptable safety margin on the other. We have debated what techniques are appropriate for the sport and how new tools affect this delicate balance. More recently, concerns about environmental impact have entered the discussion. Our views are constantly evolving and will continue to evolve as long as new climbers enter the sport. As we consider what may lie ahead, understanding how we have grappled with these issues in the past can help us consider where we are going.



"Fair Means

"


| | |
| --- | --- |
| | |
| Early climbing on Mont Blanc. | |
| | |
Rock climbing began with mountaineering, which began as a sport with the first ascent of Mont Blanc in 1786. Reports of earlier climbing exploits describe scaling cliffs to launch a surprise attack on enemy troops, quests for spiritual enlightenment, or the occasional mountain ramble simply for enjoyment, but mountain climbing as a sport was born on Mont Blanc. This historic climb opened the Golden Age of Mountaineering. For the next 100 years, peak after peak was conquered just for sport, mostly by English gentry with local French, Swiss or Italian guides.

In the early days of climbing, the goal was simply to reach the summit; climbers took the easiest possible route, and often carried ladders, grappling hooks, and other devices that had been used to storm castles in medieval times. But once all the major peaks of the Alps had been climbed, mountaineers started exploring more difficult routes on peaks that had already been climbed. Albert F. Mummery, an Englishman, said that the rules of the game should be based on what he called "fair means," and he climbed without professional guides and avoided the use of grappling hooks or ladders. Mummery became one of the top rock climbers of his era and pushed the technical standards of the day. The Mummery Crack on the Grepon, which he climbed in 1881, is a demanding 5.7 pitch that still turns back many parties today.



Belays and pitons



Pitons and belaying techniques came into use in Europe around the beginning of the twentieth century. Climbers quickly drew a distinction between using pitons and ropes as a safety net and using them to advance one's way up the mountain. Italian climber Guido Ray called it "acrobatic mountaineering" to use the equipment to advance while Paul Preuss called this "artificial aid." Preuss also questioned the use of ropes and pitons even for belaying, and he undertook many of his climbs completely unroped. He made a number of amazing climbs in the style we now call free solo, including climbs now rated 5.9 on large mountain walls. He argued strenuously that this was the purest form of the sport until he fell to his death climbing unroped in the Dolomites in 1913.

Rock climbing as an activity separate from mountaineering emerged in England and eastern Germany. Because many of the crags in these areas are composed of soft rock with rounded or incipient cracks unsuitable for pitons, the climbers developed alternate methods of protecting the leader. In England they tied slings around chockstones, a technique which evolved into modern climbing nuts. In some German areas, they used knotted slings or bits of cord tied around natural rock features. In many cases their equipment and methods offered only token protection; these climbers developed strong traditions of bold climbing.

The European methods and in particular the use of pitons and belays were imported to the United States around 1920. With them arrived the European debates about what constituted "fair means." In 1932, the American Alpine Journal noted that many climbers were still objecting to the use of hammers, pitons, and "safety snaps" (carabiners). The article described most of the objectors as being from the "past generation" and said their protests were "feeble."

In the Pacific Northwest, pioneer climber Hermann Ulrichs was a staunch hold-out. Ulrichs felt that pitons offered an unfair advantage to the climber and he not only avoided using them to advance up the mountain, he also declined to carry them for protection or as contingency anchors for a retreat by rappel. He wrote, "I have always felt that the tussle between the peak and me should both be entirely on our [own] resources--not outside aids." Ulrichs drew a sharp distinction between the use of a piton, a fixture installed in the rock, and other equipment of the day such as nailed boots, ice axes and even ropes. The latter types of equipment, he said, were different from pitons in that they remained entirely under his control as extensions of his limbs. Hermann Ulrichs was also exceptional in that he felt that descending mountains presented important challenges equal to the ascent--climbers were missing half the point of climbing when they descended by rappel.

The Seattle Mountaineers maintained an institutional bias against the use of pitons until the mid 1930s. In 1935 and 1936 Wolf Bauer began to teach roped belaying and the use of pitons to club members without the approval of the more conservative elders in the club. The more traditional "old guard" were not only concerned with the question of what constituted "fair means," but also with the idea that these new techniques might generate a false sense of security. They did not want their members getting hurt or killed as a result.



Aid climbing and bolts



Even after ropes and pitons became generally accepted for protecting the leader, aid climbing remained controversial. When bolts were introduced, they too were criticized as a departure from "fair means." David Brower was the first American climber to place a bolt. He installed a few of them at the Pinnacles in California before employing them on Shiprock in New Mexico in 1939. On that climb, he and his three companions used a handful of bolts for aid, and afterward they sheepishly referred to themselves as "engineers." Brower, of the Sierra Club, later became the leading environmental activist in the nation, but in 1939 he did not express a concern for the aesthetics or environmental impact of using bolts. The discussion revolved instead around how bolts affected the challenge of climbing.

After World War II, American climbers tackled ever bigger objectives using pitons, bolts and, where necessary, aid. The first of the Yosemite "modern big wall" climbs took place in 1950, when Allen Steck and John Salathe climbed the 1,500 foot North Face of Sentinel Rock. They used a short bolt ladder and a total of nine bolts along with some pitons for aid. Although hailed as a magnificent achievement, their climb also drew criticism. Some climbers expressed concerns about the risk inherent with such highly technical climbs, and also with the idea that, by using aid, the climbers were employing unfair means. The aid used by the first ascent party was eventually eliminated and today the Steck-Salathe retains a reputation as a demanding and staunchly traditional rock climb that frightens modern sport climbers and many big wall aficionados. Even with the amount of aid the first ascensionists employed, few today would question the purity or propriety of their climb.

Prominent climbers in the Northwest during this period were aware of the ethical discussions taking place in California but they maintained a practical attitude and made their own decisions. Fred Beckey and Pete Schoening readily used bolts and pitons on their climbs of crags and pinnacles around Leavenworth in 1948 and 1949. Sometimes they lassoed the summit of a pinnacle to reach the top. On bigger climbs such as the East Face of the North Peak of Mount Index or the North Face of Mount Baring, they used siege techniques, fixing ropes on the wall and traveling up and down these ropes to push the route and ferry food, water and equipment for the final push. Schoening wrote an article describing the benefits of these techniques for the American Alpine Journal in 1952.

Not everybody in the Northwest was happy about the new developments. In 1950, a parody of modern climbing trends appeared in the Mountaineers Annual in the form of an imaginary climb report, "Climber's Nightmare," probably written by one of the annual editors. Farther north, in the Canadian Rockies, Frank Smythe was upset when two American climbers used four bolts and some pitons, presumably for aid, to climb Mount Brussels in 1948. He wrote:

"I still regard Mount Brussels as unclimbed, and my feelings are no different from those I should have were I to hear that a helicopter was to deposit its passenger on the summit of that mountain just so that he could boast that he had trodden an untrodden mountain top."

In Smythe's view the Americans had cheated. Concerns about aid climbing and bolts persisted and when Ed Cooper reported his 1961 climb of the Grand Wall at Squamish, he wrote in a defensive tone, "There are many who criticize such climbs as mere engineering feats." He acknowledged that some would call many of his bolt placements unnecessary, but he said he and his partner had done the best they could.



Clean Climbing




| | |
| --- | --- |
| | |
| El Capitan, with The Nose on the right. Photo © Matt Perkins. | |
| | |
A new era in American climbing began with Warren Harding's 1959 ascent of The Nose of El Capitan in Yosemite. This climb followed a direct route up the biggest and blankest cliff around, and the whole undertaking was larger than anything ever done before in this country. Suddenly, it seemed there might be no limits to what climbers could master. This fueled debate about whether bolting, siege tactics, and the increasingly technical methods climbers employed were justified. At the same time, the climb of The Nose brought tremendous attention to Yosemite Valley and climbers flocked there to learn the new techniques.

Yvon Chouinard was one of the first climbers to write about the aesthetic impacts of bolting. His 1961 Summit Magazine article, "Are Bolts Being Placed by Too Many Unqualified Climbers?" emphasized that bolts cause permanent degradation of the rock. Chouinard argued that bolts should be used only as a last resort, and sparingly at that. Because less talented climbers might be tempted to use bolts to overcome obstacles that were beyond their abilities, Chouinard argued that only experts had the right to use them at all. In addition, he wrote that it was rarely ever valid to add them to an existing climb. He voiced approval of climbers who removed bolts that had been added after the first ascent of Yosemite's Lost Arrow Spire. By doing so, he suggested that responsible climbers have a right to remove bolts that they feel do not belong.

While debate continued over the proper use of bolts, aid climbing on pitons was widely accepted in Yosemite during the 1960s. But climbers noticed that the practice of removing all pitons after a party's passage damaged popular climbs through repeated insertion and removal of hard steel that chipped away at the cracks. Tom Frost addressed the issue of piton scarring in a 1972 article in the American Alpine Journal, and the problem was also described in the 1972 Chouinard Equipment catalog, which introduced a new line of climbing nuts.

These developments took place together with the emergence of the environmental movement in the United States. The word "ecology" appeared in elementary school textbooks in the late 1960s. In 1970 the Environmental Protection Agency was created and the first Earth Day was organized. By 1972 most hiking and climbing guides as well as instructional manuals began to contain prefaces urging recreationists to minimize their impact on the land.

Writers such as Yvon Chouinard and Doug Robinson promoted new "clean climbing" methods in environmental and moral terms. They urged climbers to refrain from hammering pitons into cracks (hand-placing them was acceptable because this would not chip the rock) and eschew the use of bolts. Clean climbing would not only contribute to the preservation of the rock, but was a sign of a morally superior climber who possessed not only the sense of responsibility to treat our crags with care, but the courage to carry it out. Environmentalism was in and idealism ran high, but the new clean climbing methods became popular not only because they were "rock friendly" but also because they proved to be easier. The new climbing nuts could be placed with one hand while the climber hung onto the rock with the other, and they required less energy than pounding and removing pitons. Chouinard's clean climbing promotion was a tremendously successful marketing strategy. His new line of stoppers and hexagonal nuts sold like hotcakes.

Clean climbing became even easier when Ray Jardine introduced his spring loaded camming devices, called Friends, in the mid 1970s. Like climbing nuts, Friends did not damage the rock. They also proved to be even easier to place than nuts and more secure in some applications. Like other developments in equipment and technique, the new devices were criticized by some climbers for making things too easy. You could climb a crack, shuttling a cam along as you went, and never climb above your protection. Some climbers derisively called these new devices "crack jumars."


Time Line
1786 - Birth of Mountaineering on Mont Blanc.

Fatal accident on the Matterhorn:



1865 - Climbing accident on the Matterhorn sparks debate over risks of climbing and Edward Whymper's responsibility in the deaths of his companions.

Circa 1885 - Albert F. Mummery introduces the concept of Fair Means in which he outlines rules for the sport that allow an ascent to be "worthy."

Circa 1900 – Paul Preuss introduces the term "Artificial Aid" for progressing on pitons and advocates ropeless climbing as purest form of the art

1920 - European methods begin migrating to the United States, including the use of fixed anchors (pitons) and belays

1932 - American Alpine Journal reports ongoing debate over whether use of pitons and belays is "fair means," referring to discussion taking place in Sierra Club Bulletin and elsewhere.

Pitons in the 1932 AAJ:



1935 - Despite ongoing protests from the Club's elders, Wolf Bauer teaches belayed climbing in The Mountaineers climbing course.

1936 - Wolf Bauer uses the first pitons on a first ascent in the Cascades on Mt. Goode.

1939 - David Brower and companions place bolts on the first ascent of Shiprock, in New Mexico, and acknowledge that their use of these mechanical fixtures may be controversial.

1947-1949 - Fred Beckey and Pete Schoening first reported intensive use of pitons and bolts in a cragging setting in the Northwest.

Climber on Midway: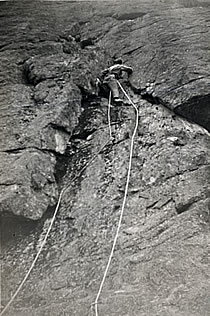 Photo courtesy the Fred Beckey Collection.

1950 - First Post-War big wall climb in Yosemite, made by Allen Steck and John Salathe using newly developed hardened-metal pitons, ropes, carabiners, etc. Their climb was widely touted as the first modern climb in Yosemite Valley but also criticized for the use of aid techniques.

1952 - Pete Schoening article appears in the American Alpine Journal on big climb siege tactics, including the use of fixed ropes.

1957 - Bolts are removed from Lost Arrow Spire by a climber who felt them unnecessary.

1959 - Warren Harding's ascent of The Nose on El Capitan in Yosemite sets stunning example of possibilities for new big wall techniques.

1961 - Ed Cooper makes the first ascent, on aid, of the Grand Wall at Squamish and acknowledges that some climbers disapprove of his methods.

1961 - Yvon Chouinard writes about the aesthetic questions of bolting.

1960s - Wide acceptance and use of pitons in Yosemite starts to impact the rock.