ow often does the opportunity to do a first ascent on arguably the biggest unclimbed wall in the North Cascades present itself? A wall that reportedly scared off Fred Beckey in 1968, who called it, "a good place for a funeral," a wall where the high point had not been reached since 1958? The East Face of the SE Mox Peak was regarded as "taboo," if not impossible, a climb everyone assumed would never be done. When we told our friends of our plan to climb it, they just shook their heads and wondered if we'd even get off the ground.
Monday, Bellingham to Perry Creek
Four a.m., two hours of sleep and we're driving through pouring sheets of rain. Our weather forecast wasn't looking good; a 30-40% chance of precipitation for the next week and rain was already coming down hard. We had been meticulously planning this climb for months, including "meetings" in which we went over every conceivable situation that we might find and what we'd need to overcome those obstacles. Gods may not respect the plans of men but we had our plans and were sticking to them, rain or shine. We patiently waited in the drizzle for our water taxi to take us from Ross Lake Dam and into the heart of darkness. We had packs loaded for six days in the backcountry with every piece of technical equipment and clothing known to modern man...and 2.5 liters of Canadian whiskey to boot. When Will, the ferry boat captain, dropped us off, we didn't know exactly what we were getting ourselves into.

The heavy packs ruined a perfectly good and flat 4.5-mile trail up Little Beaver Creek to Perry Creek. Luckily for us, huckleberries abound and we gorged ourselves to the full capacity of our stomachs. Two hours, 4.5 miles. We were making some pretty good time! Until…the trail-less Perry Creek valley. Without any exaggeration, the Perry Creek drainage remains our worst-ever approach. The forest was a thick tangle of slide alder, berry bushes and evergreens. We tried to go up the steep riverbed only to be shoved around and bullied by the slippery rocks. The sky drizzled on and off the whole time. One mile. Four hours. We had to constantly psych ourselves up just to put our packs back on as our breaks became more and more frequent. Both of us knew that we were kidding ourselves. No way could we do this approach in two days and have enough energy for a mountain we wouldn't even see until we were below it.
| | |
| --- | --- |
| | |
| Campfire and Mike Layton. Photo © Erik Wolfe. | |
| | |
We made camp in the rain only 1.75 miles after leaving the main trail, on a soggy gravel bar, utterly worked over after seven hours of intense slogging and stumbling. The gods were angry with our plans. But in the evening under the tarp we dispensed with the emotional trauma and physical abuse that day had ruthlessly dealt. We played games of cribbage while we sipped our whiskey from cups and cereal bowls. Then the evening's activities took an intellectual nose dive when the game turned to crazy eights and we built a fire to dry sopping-wet gear and warm hypothermic bodies. The notion of the "Devil's Club" then came into our heads. Dispensing cuts and splinters, the plant seemed to rule the land, so we used our machete to cut a few limbs and burn a sacrifice to the gods we had angered.

Tuesday, Perry Creek to Mox Peak Basin

"Erik, put 'em on, it's GREAT! They're kinda like a pre-moistened towelette!" We cringed as we donned our cold wet socks and shoes. We were immediately back in the river after a rainy night. The sky was thick with clouds and our only sun break oddly occurred at the exact same time the rain started again. By 2:00 p.m. we were again drenched and hypothermic. Our path took us in and out of the ice-cold river and a car wash of sopping wet slide alder, devil's club and blueberry bushes. We were making better time than yesterday's 1⁄4-mile-an-hour—— today we were up to a full 1⁄2-mile-an-hour. Eventually we were forced to stop and build a fire, dry out, and have some hot coffee and whiskey to ease the pain of our efforts. Although we knew this jungle would never end and we'd probably never even see the peak, we had come too far; returning would take longer than marching ahead. We would have given up if we hadn't stopped for this fire. We shivered uncontrollably while the rain continued.

Our condition went from poor to wretched in the forest. The endless tangle of vegetation just went on and on. Spirits reached an all time low. We cut out of the river and headed up to more open forest when the devil's club finally let us through.

"It's getting better already, and I'm going straight uphill," Erik sighed as we grabbed roots and vines to claw our way up the dirt slope.

"Who cares about deadfall? I just want my dignity back," I replied.

Finally we could make out the lower third of the peaks in the cirque and camp seemed just a stone's throw away, before the suffering seemed to downshift into Dante's 9th circle of hell:
"The thickest bush we've ever encountered slowed us to a soul-crushing crawl. Mike inhaled a mosquito and doubled over in a seizure of coughing spasms, eyes running with tears whether from the cough or from being so fully beaten down. He uttered the most violent string of expletives to ever pass his lips, managing to curse every rock, tree, bush, river, mountain, and valley in this godforsaken hole." – Erik Wolfe
Tree walking. Photo © Erik Wolfe.
Mox and a dizzying array of walls, buttresses, and glaciers encircled that evening's camp, but we had a good view of nothing but brush. Exhausted by 16 hours of approaching, sleep came just as the rain once again returned. "Never again", we promised each other. "Never again."

Wednesday, Mox Basin to 7,200 Feet and a Bivy on the East Face

The clouds were breaking up as we headed off, sore and beaten from the previous two days, with our smaller and considerably lighter packs. We reached the base of the wall in clearing weather and got our first look at the immensity of our project: 1,000 feet of steep slab to 1,500 feet of undulating vertical gneiss. Without much discussion of how stupid we were, we put 50 feet of rope between us and started simul-climbing from the center of the base of the wall for the first 400 feet, with difficulties up to 5.9. The rock was solid, but protection and route finding were the biggest challenges, which would prove to be the consistent characteristic of the rest of the climb.

Erik proudly led the next 400 feet and I got on the sharp end for the final 200 feet to the small ledge that marked the beginning of the vertical face. Here we found a rap sling around a tree and a button-head bolt, the final high point of the last party to attempt the wall, a group from Portland 37 years ago, according to Harry Majors from his post on CascadeClimbers.com.

Like that team, we found that the best rock and easiest route finding were on the far right side of the east face. The wall above got drastically steeper for the final 1,500 feet above us, looking pretty improbable. I led a pitch up the vertical wall to get a head start on the next day and took forever fighting for gear and trying to get the courage to run it out. My placements got increasingly creative but a solid pin halfway up the pitch eased the mind. When I rapped back down to the bivy the pin came out with two easy whacks from an ice tool and two pieces popped from the tight rope.

We cleared a small space on that ledge in the growing darkness, barely big enough for both of us to lay squeezed up next to each other. Sipping on our small bivy flask to wash down the sleeping pills and hunkering down for a cold and windy night, we wondered what we were doing and where we were. Thankfully the sky was clear, but the wind didn't let up the whole night, coming in large gusts to remove any warmth gathered in our bags.




Summary
East Face, SE Mox Peak
8,509 feet
25 pitches, V+, 5.11- X
Party
Mike Layton
Erik Wolfe
Itinerary
• August 29, 2005
Drive to Ross Lake, water taxi to Little Beaver Trail Head, Hike to Perry Creek.
• August 30, 2005
Hike up Perry Creek to Mox Peak Basin (heavy brush).
• Aug 31-Sept 1, 2005
Climb and descend E Face of SE Mox Peak.
• September 2-3, 2005
Return to trailhead, water taxi, and drive home.
Route Photo: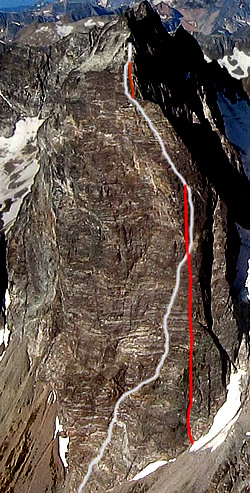 The white line indicates the route of ascent. Red indicates the descent. Photo © John Scurlock
"The Devil's Club"
SE Mox Peak, East Face
25 Pitches
Grade V+, 5.11-X