t was a secluded little forest, hugging one side of the flood-ravaged riverbed. It sheltered a benign sanctuary of level land where the valley floor widened and briefly paused from its diving descent through this deep and rugged river valley. Bordered by long stretches of dense brush and towering stone walls, the forest had the feel of a far, far away, fairytale land and I kept my eyes open, half expecting to catch a glimpse of magical beings peeking at me from around the trees. Near the center of the grove, a thickening canopy led into a clearing in the undergrowth that drew me easily up and away from the river.

The gentle valley floor ran abruptly into a steeply inclined garden of knee-high ferns and young huckleberry that brushed my calves as I began to climb. A deer path emerged and led to a fortunate passage across a steep earthen gully. I turned and ascended narrowly up the very steep rib bordering the other side. A couple hours more brought me to a brief moderation in the terrain and the lush undergrowth of an isolated hanging valley. I continued up and left, quickly rejoining very steep terrain. Large, exfoliated slabs loomed above, but as I continued in a steeply rising traverse, passages kept appearing. Eventually I reached a corner and a slope that I knew signified the last of the potential technical difficulties. The route would go, and I pressed on, climbing the unrelentingly steep, forested slope with renewed enthusiasm.
| | |
| --- | --- |
| | |
| | Mysterious, alluring heights. Photo © Kevin Thurner. |
| | |
By early afternoon I had broken out of the trees into an open basin of steep heather terraces and large, gleaming boulders. Icy cold water flowed in trickling streamlets and I drank deeply to wet my parched throat and renew my sweat-drenched, thirsty body. Another fifteen hundred vertical feet, and I was on the crest at last.
I lowered my pack at the high point with an air of quiet jubilation. It was an idyllic site for a high camp with large areas of level bedrock and wide open views. I unpacked the ample water I'd collected in the basin below and had a few handfuls of my trail mix du jour, then grabbed my camera and headed out along the crest to explore this remarkable place.
It had been many years since my first, inspired view of this massive, buttressing ridge. It stood out like a peninsula in the sky, dropping precipitously more than four thousand feet to the valley floor. In the intervening years I had given it my own name and had gradually explored the range of wilderness surrounding it. The views as I strolled upon it now were rousing and spectacular and I laughed out loud, releasing the ebullient joy I felt building in my chest.
---
Climbing through mountain wilderness to high summits and ridgelines is an adventure shared by many fortunate people. As hikers, climbers, naturalists, wayfaring friends and ardent daydreamers, we ply our trail shoes, hiking boots, plastic boots, our magic rubber slippers and our well worn sandals across these landscapes. But though the intentions and aspirations we carry to these ventures may vary widely, there is something that we share at the heart of our attraction to these wild and rugged places.
In 1924, George Mallory's reported, three-word answer to the question of why he wanted to climb Mount Everest became a symbol of the forthright, yet all too mysterious motivations of mountaineers in the eyes of greater society. Just what motivates a person to seek out such grueling physical labor, vertical exposure, endure harsh weather, thin air, and sleep on rocks and snow may indeed seem curious, particularly when its portrayed as being fun. Well known climbers have sometimes stated simply that they can't explain what it is that drives them in the mountains, and for mountain enthusiasts of many kinds, it can be a challenging question to respond to with the kind of clarity required of true understanding.
Although it is sometimes used as a simple quip, I prefer to think of Mallory's statement, "because it's there," as something more; a kind of Zen shorthand perhaps. To understand it would be to say it with the emphasis on the second word rather than the third.
---

t had been a fine day of ridge running, traveling north along the undulating divide and in the fine August weather I'd reached the final summit by mid-afternoon with plenty of time to relax and enjoy the sunshine. Though relatively low and unassuming, I'd been looking forward to this mountain for quite some time. Its position astride the international border offered the promise of a new vantage point into a favored area of dramatically sculpted mountains. The view turned out to be all that I had imagined and I lowered my pack to pause and take it in. I found a good place for my sleeping pad and some nice flat rocks to sit and cook on. A snowfield below would offer water, and in time I would head down for the harvest. It would be a perfect home for the night.
Afternoon soon merged into evening, and as the angled sunlight shone through scattered clouds, I gauged the sky and wondered hopefully about the coming sunset. There is something primordially engaging about watching a sunset. It is a goodbye to the day that was, but often a beautiful, satisfying and most grateful goodbye. Sunsets are as unique as the days that bring them; from the muted violet and indigo in cold winter clouds, to the brilliant yellows and oranges of clear summer evenings; from the soft pastel reflections of spring to the low-angled, saturated light of fall. There are the evenings when weather smothers the sky and only the dimming light exists to spur imaginings of the setting sun far above. And then there are the evenings that simply blow our minds; evenings when the atmosphere's refraction creates a fire of vibrant, burning color and the clouds are perfectly positioned to catch this light within their intricate wisps and folds. I stood upon the summit now with eyes wide and my anticipation building, as just such a sunset began to unfold before me.
| | |
| --- | --- |
| | |
| | Sunset over Mount Slesse. Photo © Kevin Thurner. |
| | |
Thin, separated cloud bands stretched out in long, wind-battered rows above the western horizon. To the far north the remnants of afternoon thunderstorms traversed the southern-most highlands of the Coast Range. Above me, the sky stretched out wide as patchwork clearings shifted from blue to a lighter, cyan tint. Soon a wave of brilliant, concentrated yellows began flooding in from the northwest, engulfing exposed cloud faces and shooting beams of light through their ragged breeches to spotlight the hidden recesses behind. Breaks and patterns in the clouds sprinkled color erratically upon the sky in a spectacle of shadow and light. The eastern faces of high mountains faded steadily, dropping deeper and deeper into shadow, casting broad veils over the valleys below and filling them with an almost liquid darkness. Fiery oranges followed, seeping up in streaks, reaching through the same broken cloud patterns. Soon a warm rainbow of colors painted the vaulted sky and I craned my head back as above me, rays of light caught lower clouds in one color and higher clouds in another. Shadows and textures grew bolder in some areas and weaker in others, then changed again as light continued its play through the interspersed layers of the evening sky. Towering mountain walls transformed into vivid alpine silhouettes, rising impressively into the blazing summer sky. Then finally, the flat, elongated sun reached out with a bulging lobe like the edge of a droplet of water to touch the western shore. And the land engaged it, pulling impulsively down into itself. Above the eastern horizon, a broken band of violet light appeared and began rising in perfect counterpoint, tracing the edge of the earth's shadow.
Reds grew deeper on the horizon as brightness receded and the iris opening of daylight slowly began to close. My exhilarated excitement in witnessing one of the finest sunsets I could remember began to gently ebb, like a slow moving tide. In its place it left a bone-deep sense of ease, and happiness. It was ending and all I could think was "wow..." It wasn't a time for words.
---
Sleeping in high, panoramic locations began for me long ago as a gradual extension both of my fascination with rugged geography and of my growing engagement with photography. I love the light at the end and beginning of each day and matching this light with the dramatic shapes and contours of mountain topography beguiled me into the notion of sleeping upon these high vantage points.
High bivouacs aren't common for most mountain travelers and for very good reasons. Water, warmth and shelter are more readily available in the valleys and lake basins, and sleeping low gives the body a more gradual acclimatization curve and restful sleep. Flora in high, short season, low nutrient environments is both impressively resilient and quite fragile. Once damaged recovery may take decades and warrants a corresponding awareness to our impacts. Perhaps even more persuasive is the widespread desire to minimize carrying heavy packs any higher or further than necessary.
There is some risk in sleeping high as well. Given the vagaries of mountain weather, being willfully unconscious on an exposed summit in the middle of the night isn't the safest option. Skillful weather observation, good judgment and attentive contingency planning are important prerequisites. Wisdom implies caution.
Spending the night well above tree line isn't a new idea as generations of fire lookout alumni can attest. There are also many climbers who make high bivouacs as a means to completing the larger goal of a long climbing route. A smaller number choose to carry their packs to high, exposed summits and ridgelines as a goal in itself with the purposeful intention of staying for the sunset and sunrise. But regardless of their ultimate objectives, people's experiences of sleeping high are seldom forgotten. There is something exquisitely special, almost spiritual about being there during these late night and early morning hours that adds a share of meaning to these endeavors; that adds some measure of clarity and definition to the "it" of Mallory's statement. For me, approaching mountains this way has over the years become both something of a ritual habit and a wellspring of profound pleasure.

High Bivouac Scenes
Hozomeen Mountain at sunrise.
Sunrise over Hannegan Pass.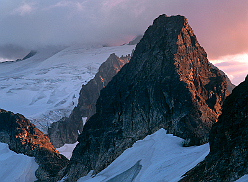 Paul Bunyan's Stump in evening light.
Mt Fury at dawn.
Camp on Hidden Lake Peak.
Johannesburg Mountain at dawn.
Clouds forming over Mt Shuksan.