tranded

After I watched the helicopter disappear over Frenzelspitz, dangling Steve and his rescuer, I collapsed onto the narrow ledge. Tears streamed down my face as the sun dipped behind the spires of the Southern Picket Range. My nerves were shattered from the shock and stress of the past ten hours. I kept re-living the day's events in my mind, partly to convince myself that they had really happened. As I did, my anxiety subsided a little.

The backpack that Kevork had left me was very heavy. I rifled through the pack and found a sleeping bag, a thermarest pad, a bivy sack, two gallons of water, a bag of Nutra-Grain bars, peanuts, cashews, cookies and a radio. Physically and mentally wasted, I crawled into the sleeping bag and bivy, tied into the block, and lay down on the thermarest. The last ten hours had been the most intense of my life. I was no longer Steve's caretaker, and he wasn't going to die under my watch. The sun was sinking. I sat up on the ledge and watched the stars appear.

It was an emotional night. I fiddled with the radio and made contact with someone with the Park Service. They told me that a rescue attempt would be made in the morning and to check back in at 7 a.m. I was content with that bit of information, though the weather forecast was calling for a storm system to move in around noon the next day. Still, I figured that they should have plenty of time in the morning to get me off of the mountain.

I passed the night at 6600ft without sleep but with few worries, marveling at my spectacular surroundings. The rising moon illuminated the snowy southern flanks of Mount Fury. I followed the shadows cast by the moon as they shifted throughout the night. Lightning flickered far to the north, which worried me at first. But the flashes were consistently far away, and I never heard thunder. If I focused my gaze northward long enough, I could see a distant snowy peak during each flash. It seemed far enough away to be in Canada. I looked forward to a morning rescue.

At first light I sat up and looked to the west. To my utter dismay, a wall of clouds surged over Picket Pass, like they'd been waiting patiently all night for their first chance to enter McMillan Cirque. Low-lying at first, they soon filled the cirque completely. Visibility was no more than 100 meters. I checked in with head climbing ranger Kelly Bush and she informed me that the helicopter was en route. Kelly had given Donn a radio the day before when the helicopter had staged for Steve's rescue near our camp in Crescent Creek Basin. Over the radio Donn informed me that there was a small cave no more than 60 meters below my ledge that Steph had seen shortly before Steve's fall. He said it should offer me some protection if the weather worsened.
| | | | | |
| --- | --- | --- | --- | --- |
| | | | | |
| Bivi cave with supplies packed by the park rangers. Photo © Jason Schilling. | | Park Service radio, the author's only means of contact for four nights. Photo © Steph Abegg. | | The author stays upbeat for the camera. Photo © Jason Schilling. |
I packed up all of my things, tied the ropes back together, and strapped my pack onto the rescue pack that Kevork had left me. It was unwieldy, but I needed everything in it. Cleaning the cam from the anchor, I rappelled from the cordelette tied around the block that had served as our anchor the day before. I stopped on a ledge to pass the knot and then rappelled to within ten feet of the rope's end. I could see the cave, just 60 feet below and sharply to the east. I frantically searched for an anchor from which to rappel to the cave. I tried in vain to thread the severed 20-ft section of rope behind a block, but the crack was too thin. In desperation, I placed the cam in a crack, attached a sling, ran the rope through it, and tested it repeatedly. I put myself on rappel and took a deep breath, testing the anchor once more. Most of the nerve-wracking rappel was done as a down-climb, since I did not want to unnecessarily weight my lone anchor. Halfway to the cave, I heard the approach of a helicopter. I tried to shut it out and focus on my rappel. The voice of the pilot on my radio interrupted my concentration, asking me if I could see them. The radio was in my pack so I ignored it for several minutes, until I reached the cave. The noise of the helicopter was quite loud, but I could make out nothing but rock and fog. I dejectedly answered that I could not see them. After a long pause the pilot responded "Well, I suggest you make yourself comfortable," then he was gone.
The cave was basically the eroded lower section of a massive boulder at least 20 feet high, which I hoped was somehow attached to the mountain. A grassy ramp sloped up to its entrance, where the nook was highest, about three feet. The cave diminished to a tiny crack at its back and side. I placed the rope at the foot of my thermarest and the pack on top of the rope to keep my feet off the ground. I dug a small trench on the downhill edge of the packs and then stuck some larger rocks in the trench to prevent myself from sliding downhill. When the rains came I became acutely aware that my feet and lower shins were protruding and exposed to the weather. I was getting colder.
"I don't want to freeze to death in this cave," I thought, and envisioned an escape. I could rappel to the glacier, down-climb the easy parts, and then traverse west on the glacier to the couloir that leads to Ottohorn-Himmelhorn Col. It was a steep couloir, but I could easily kick steps up to the col and rappel down the other side to base camp, where Donn and Steph would be waiting for me. Or, once on the glacier, I could just hike down into the jungle-like forests of McMillan Creek. Surely there would be safety in the trees.
This plan could have worked if I had more gear to use for rappel anchors. But I had only four slings and a mutilated rope. I didn't have a knife. A set of nuts would have been ideal for the numerous rappels needed to reach the glacier. But dying trying to get off of the mountain seemed better than succumbing to hypothermia. I radioed the Park Service and informed Kelly of my plan. Her exact words were "Stand by. Do not rappel." She contacted Donn, just a few miles from me on the other side of Mount Terror and asked him what their status was for rescuing me. He responded that it was not safe for them to attempt a rescue and they'd have to wait for the weather to clear and the rock to dry to reassess. Although I understood their reasoning for staying put, I felt hurt and abandoned by their decision. But what could they do?
The afternoon and evening of that first day in the cave were some of the darkest hours of my life. The peaceful interlude of the previous night's bivy was followed by another hell, one that, without Steve, was mine alone to endure. But as the stormy grey haze faded into darkness, I began to believe that I would survive an extended stay in the cave. I knew that as long as my core was warm, I would make it. I thought of Russian and German troops freezing to death in the trenches on the Eastern Front and Shackleton's men enduring Antarctic cold and wet for two years straight. I knew my situation was not yet so dire.
| | | |
| --- | --- | --- |
| | | |
| Precipitation and poor visibility prevented rescue attempts for three days. Photo © Steph Abegg. | | NCNP short-haul rescue team confers with helicopter pilot Tony Reece. Photo © Steph Abegg. |
My survival to this point hinged on several fortunate events since Steve's fall. Steph and Donn had finished climbing the buttress quickly, mostly simul-climbing, enabling Steve's rescue the same day as the accident. Kelly Bush had the presence of mind to give radios to Donn and me, as well as the survival backpack prepared for me. Those two decisions, plus Steph's memory of the cave, likely saved my life. I shudder to think how I would have fared for several consecutive nights on my initial ledge, without shelter or the ability to communicate. Also, had we not had my cell phone, and had Donn and Steph not been able to get a cell signal from atop Terror's false summit, the outlook for both Steve and me would have been far different.
But I was not feeling lucky the first night in the cave. I checked back in with Kelly and settled in for the night. I wore my helmet for insulation from the cold rock and was uncomfortably cocooned in my sleeping bag and bivy sack. I focused on my breathing and slowed everything down, intent on making no unnecessary movements. I willed myself not to cry anymore for fear of wasting precious energy and fluids. My goal was to sleep or enter into a dream-like state. My mind and body were so worn out from the trauma of the past two days that I fell into a deep sleep and did not wake until dawn. Alarmed to find myself halfway out of the cave, I clawed at the ceiling of the cave to pull myself back up. I would repeat this maneuver hundreds of times over the next three days, causing a sore neck and abdominal muscles.
The highlights of my days were eating and checking in on the radio. In addition to the assortment of bars and nuts from the Park Service, Steve had left a handful of Clif Bars and packets of energy gel. Kelly Bush's calm command of the situation enabled me to relax, as did speaking with Donn and my girlfriend, Anna, who were waiting anxiously at Park Headquarters. I had a radio check-in every morning and evening to look forward to. The hours between were filled with boredom and anticipation. I had given up on keeping my feet dry, but my temperature had stabilized. I drifted in and out of sleep, waking to stare at the ceiling not more than two inches from my face. I worried when it rained hard and drips in the cave came closer to my cocoon. I was also concerned about rockfall caused by the constant rains. Textured features of the ceiling's cave took on bizarre formations. I saw animals, ex-presidents, skulls, and dragons.
In retrospect, spending three soggy nights in that crack in the mountain was anticlimactic when compared to the events that Steve and I endured on the day of his accident. My anxiety subsided into boredom. I was mostly obsessed with the weather, and noted even the most minor changes. My requests for weather updates were constant in radio conversations I had with Kelly, Donn and Anna.
Despite my single-mindedness, my spirits were lifted by the contact with Donn and Anna. On my third day in the cave, I was filled with a positive attitude that would only increase throughout the day. As dusk approached, I glimpsed the first patch of blue sky in days. Instead of avalanches, rockfall, and waterfalls, the cirque was filled with an eruption of birdsong. As I lay on my side watching the storm dissipate, I heard a scuffle behind me. I rolled over and caught a glimpse of a wood-rat chewing on a Nutri-Grain wrapper. I screamed, alarmed by my first encounter with another living creature in over three days. But I optimistically took the rat's appearance as yet another positive sign that the weather was changing in my favor.
Though there were few hours of darkness, the fourth night on the mountain seemed excruciatingly long. My back was so sore that I could hardly stay in one position for more than a few minutes. I didn't sleep, too concerned with the weather and the cloud situation in the cirque. The sky cleared shortly after sunrise, but patchy fog moved in and tormented me for the next few hours. At first light, I got out of the cave and started to organize my things. I did a little yoga as the rising sun reflected off Frenzelspitz. I stopped abruptly as clouds rolled back into the cirque, obscuring Mount Fury and the rising sun. Worried that they would persist, I climbed back into my bivy and waited.
Escape
I shivered on the grassy ledge outside of the cave as the helicopter approached. Kevork again dangled from the machine and pilot Tony Reese communicated his plans to me over the radio. My hopes rose with the helicopter, and Kevork was at my elevation when Tony's agitated voice came over the radio "Jason, I'm lost in the clouds up here, I just can't see you or the mountain. We're going to have to go down to the glacier and wait for a clearing." Of course I could wait a little while longer. I'd been waiting for the past four days. But if I wasn't rescued today, I would be devastated. I helplessly watched the helicopter fade to a tiny speck as it descended to the moraine at the foot of Mustard Glacier 3000ft below.
| | | | | |
| --- | --- | --- | --- | --- |
| | | | | |
| Sunrise after the fourth night on the mountain. Photo © Jason Schilling. | | Hughes 500D helicopter piloted by Tony Reece. Photo © Steph Abegg. | | NCNP short-haul rescue team (enlarge for details). Photo © Steph Abegg. |
I pulled out the sleeping bag to warm up and waited. Within half an hour I noticed a clearing in front of me and a lifting of the cloud ceiling. The helicopter crew geared up for another attempt. I held my breath as Tony ascended again expecting to lose him in the cloud cover once more. But this time he stayed well below the clouds. Kevork landed on my ledge and moved towards me. I unclipped my makeshift anchor perhaps a little too soon as he bumped into me, nearly knocking me off balance. I steadied myself as he tried with much effort to clip into my harness. Again the sound of the carabiner clipping into the belay loop was the most joyful sound I could imagine. Kevork confirmed that he had me and we were off the mountain. I sobbed uncontrollably. Kevork grinned as I patted him on the helmet and muttered my gratitude between sobs. We landed gently on the glacier and I looked up in awe at the incredible soaring buttress of Mount Terror, half obscured by clouds and hemmed in by steep and broken glaciers.
Donn, Steph, Anna, Kelly and other rangers from North Cascades and Mount Rainier National Parks were waiting back at the landing pad. The reunion was emotional. The air was so warm and the ground so flat. Every touch and ray of sunlight was like a gift. I was tired, but overjoyed. Kelly hugged me. It was great to finally put a face to the voice that had calmed me throughout my ordeal.
In the days that followed my four nights on the North Face of Mount Terror, I experienced a heightened awareness and enjoyment of life and living. I enjoyed every meal, beer, nap in a warm bed, and step on solid ground more than I thought possible. I also visited Steve, and was comforted to see that he was already in the beginning stages of healing. It would take months for his physical injuries to heal, and for us to process what we'd gone through. Our capabilities, experience, judgment and good luck had combined for this fortunate and rare outcome. I can only hope I will always climb with partners as worthy as those I had on Mount Terror.
The flip-flops and bolts phase lasted about a week before I was back in the North Cascades, lured by an undying thirst for adventure and love of the mountains. In the months following the accident, I went on to climb several more fantastic North Cascade routes. On more than one occasion, I reunited with Donn or Steph for a climb. These positive experiences helped to put some distance between me and the incident on Mount Terror. The harsh memories of the ordeal have been softened by time. But a passing glance at the bloodstains on my pack and rain jacket reminds me that accidents in the mountains are possible and at times unpreventable. Although newly humbled and awed by the risks inherent in the sport I love, I will be up there again.
| | | |
| --- | --- | --- |
| | | |
| | Red dawn over Mount Despair from the Southern Picket Range. Photo © Steph Abegg. | |

Helicopter Short-Haul Rescue
Short-haul rescue involves transporting people beneath a helicopter over short distances to get out of places where the helicopter cannot land.
Origins in the North Cascades
During the early years of North Cascades National Park (NCNP), helicopter rescue was performed by teams from the Whidbey Island Naval Air Station. In 1980, a Navy helicopter en route to a rescue on Mount Redoubt crashed in fog at Perfect Pass, killing five crew members.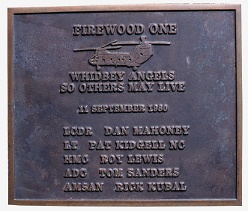 NAS Whidbey suspended mountain rescue activities for a time, and Wilderness District Ranger Bill Lester started working with pilot Tony Reece of Darrington. Reece's company, HiLine Helicopters, primarily served logging companies. (See story in NWMJ Issue 3.)
For several years, Lester and Reece improvised techniques for helicopter rescue. By the early 2000s, it was clear that formal approval would be necessary to continue the program. Kelly Bush requested approval from the Interior Department in 2003. After extensive effort, the NCNP short-haul program became operational in 2006.
Annual Certification
Short-haul rescue requires exceptional piloting skills. Helicopter pilots must pass an annual short-haul test, a course of demonstrated long-line maneuvers, before flying rescuers. Many pilots fail the test, but Tony Reece passed on his first try. Recently, a second pilot, Jason Moorhead, has been certified to fly short-haul missions in North Cascades National Park.
Rangers must also be certified for rigging and communication skills and for performance as a team with the pilot in various situations.
Mount Terror Rescue - Day 1
On the afternoon of July 5, Wilderness District Ranger Kelly Bush took a cell phone call from Donn Venema, high on Mount Terror. Fortunately, key SAR rangers were already at the Marblemount ranger station, as well as pilot Jason Moorhead and his helicopter. Moorhead flew Bush and ranger Kevork Arackellian on an initial reconnaissance.
Bush later recalled, "It was a classic short-haul situation, but a really difficult one, as high-test as it gets." Moorhead concluded that the mission was too difficult and declined to fly it. Kelly Bush noted: "That's a great thing, a pilot who doesn't have an ego that says, 'Oh yeah, I can pull this off.' We really want our pilots to be like that."
Bush placed calls to both Tony Reece and NAS Whidbey Island. Whidbey declined the mission due to the shortage of time. Reece drove from Darrington to Marblemount and after a briefing flew Bush and Arackellian back toward Mount Terror.
Due to the late hour and the fact that Jason Schilling was not injured, Bush decided to focus on injured climber Steve Trent to get him all the way to Newhalem for transfer to an Airlift Northwest medical helicopter. Performing two short-hauls in the fading light was considered too risky. Rangers prepared a backpack with provisions and Arackellian gave it to Schilling when Trent was picked up. Bush hoped that there would be a few hours of good weather the next day to rescue Schilling.
Mount Terror Rescue - Days 2 thru 5
Bad weather on July 6 made retrieving Schilling impossible. Using the radio provided to him by the park rangers, Schilling later reported that the North Face of Mount Terror was plastered by snow. Kelly Bush received offers from rescue groups as far away as Southern Oregon to "hike in and get him." She declined these offers, judging that the potential for other injuries was too great.
Bush later recalled: "I felt all during that week that although this guy, Jason, may hate me forever because he spent all that time in a really bad situation, it's not safe enough to do the short-haul. We can't even risk it in the fog. I could send people hiking in there, but chances are somebody else is going to get hurt and complicate this whole thing. It just was not an emergency at this point, as long as he's healthy. It is July—the clouds will clear at some point."
On the morning of Day 5 (July 9), Bush assembled a team of four climbing rangers to be inserted on the Mustard Glacier, set up camp, and prepare for a ground rescue attempt. She reasoned that it might help Schilling psychologically to know that there were climbers nearby to help. Before flying them in, Tony Reece made one more attempt with Kevork Arackellian to reach Schilling by air. Around 10 a.m. the clouds lifted and Jason Schilling was plucked from the North Face of Mount Terror.
Postscript
"In our review of this whole incident," says Kelly Bush, "among the points recorded was that when deploying an emergency rations pack to a stranded person, we should consider inclusion of a fully charged iPod and a good book!"