Part 2 - Late Winter Trips
Shorter days, poor road access, exposure to storms, and the attraction of lift skiing have limited the number of high routes I've done in mid-to-late winter.
Southern Cascades
The most extensive trips I've done at this time of year have been along the Cascade Crest south of Snoqualmie Pass.
These are lower elevation areas, often barely above tree line, like the spot pictured below near Naches Pass.
If you want to ski this section of the crest, you have to do it in winter (preferably late winter) in order to find deep and reasonably consolidated snow.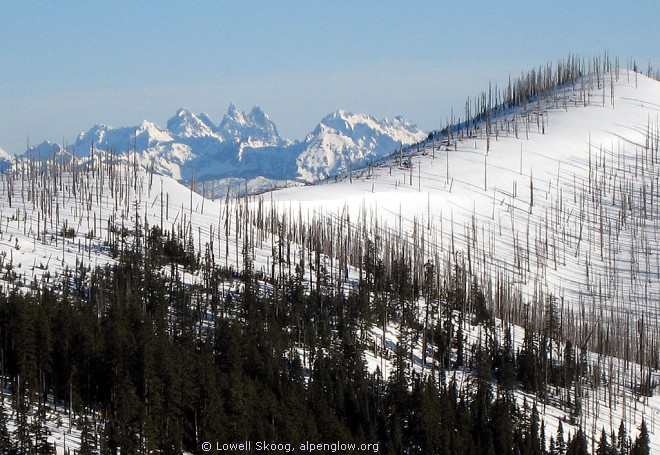 Southern Cascades: Naches-Green River divide, along the Cascade Crest north of Naches Pass, February 2007. Chimney Rock rises in the distance.

Northern Cascades
The most significant high route I've done in the North Cascades during the winter season was in late March 1983—the Isolation Traverse between Snowfield and Eldorado Peaks. This was one of the first high routes I ever skied and it was organized by Gary Brill.
We had some beautiful scenery on this trip. (See opening photo on this page and the photo below.) But we found the south facing slopes crusty and hard to ski while the north facing slopes were soft and difficult for trail breaking. Since we skied from north to south, you could make a good case that we had traveled in the wrong direction.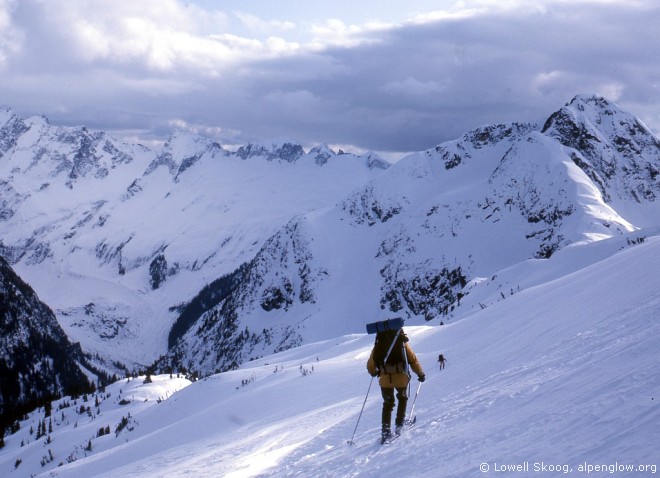 Isolation Traverse: Mark Hutson and Gary Brill descend toward a camp below Isolation Peak, March 1983.

We spent our fourth day on the Isolation Traverse cooped up in a storm (see photo below) and finished the route the next day.
My overall impression of the trip was that it was hard work and not as pleasant as trips I had done later in the season.
But there's something to be said for real winter conditions—where if the weather turns bad you may be snowed on, instead of rained on. And it's nice to avoid the mush season, which I'll talk about more later.

Isolation Traverse: Camp next to Early Morning Spire on the fifth morning, after a storm day in the tents, March 1983.

Another trip that I did fairly early in the season (1st week of April) was the Nooksack Traverse over Mt Shuksan from the Baker ski area to Hannegan Pass (photo below).
This trip is not one you want to do when it's too warm. The snow clinging to Jagged Ridge in this photo would surely start dumping onto the glacier we had just crossed if the sun was higher and the weather warmer.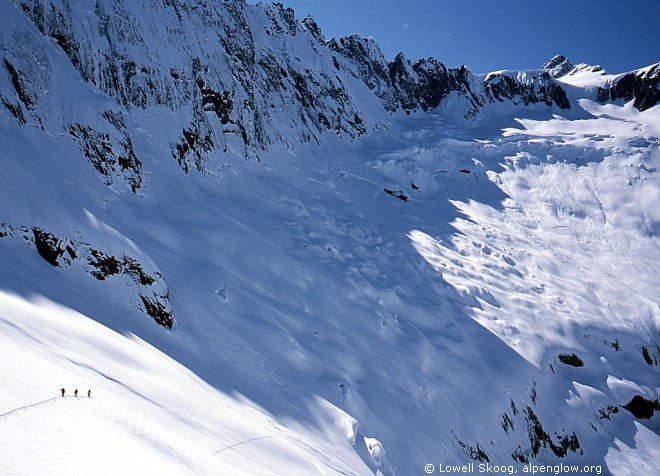 Nooksack Traverse: Climbing toward Icy Peak after traversing beneath Jagged Ridge in the Nooksack Cirque, 1st week of April 2004.

<<Prev | Intro | Timing | Winter | Mush | Gliding | Weather | Glaciers | Next>>