he winter season of 2007–2008 had the most avalanche fatalities seen in Washington in modern times, discounting the icefall accident on Mount Rainier in June 1981. What happened? First let's look at this winter's weather patterns and snowpack growth.
Winter Weather Summary
The La Nina winter started rapidly during a short but major storm and avalanche cycle in early December. On December 3, the last storm in this cycle was fed by moisture from the remnants of Typhoons Hagibis and Mitag. Snow measurement sites near the Washington Cascade crest received about three feet of snow on December 2 and 3. This came with a major warming trend which changed the heavy snow precipitation to heavy rain on December 3. The increasing wet snow and rain generally accumulated on old snow crust layers from November. This cycle is indicated in the precipitation chart by the spike in snow depths in early December. Five avalanche deaths in two accidents occurred in the Cascades during this time.
| | |
| --- | --- |
| | |
| | Bram Thrift examines the crown wall of a slab avalanche at Alpental on January 1, 2008. The avalanche occurred the previous day. Photo © David Kratsch. Enlarge |
| | |
The next storm cycle extended from mid December to mid January. Hurricane Ridge in the Olympics and locations near and west of the Cascade crest accumulated 17 to 24 feet of snow during this one-month period. Many sites had several days, sometimes consecutive days, of a foot or more of snowfall. Snowfall was especially heavy at Mount Hood. Three more avalanche accidents, on December 18, New Years Day, and January 4, claimed the lives of four more people.
Another storm cycle extended from the last few days of January through the first half of February. Sites near and west of the Cascade crest picked up 10-15 feet of snowfall during this two week period. All three major Cascade pass highways (Stevens, Snoqualmie, White Passes) had extended simultaneous closures during this period. The most snowfall occurred at Paradise and White Pass which averaged over a foot a day for two weeks! (I distinctly remember the tired voices each morning when talking to snow safety crews who had to battle this relentless snowfall.) The public was now paying more attention to the avalanche forecasts (see chart in sidebar) which may partly explain why no more avalanche deaths occurred during this time. But access to the Cascades was also restricted due to closed roads.
The Northwest experienced an unusually cold spring with snow continuing to accumulate in April in the Olympics and Cascades. This led to record total snow depths in the south Cascades at White Pass and Mount Hood Meadows by May 1, leading to abnormal late season avalanche activity.
Accident Summaries
The following summaries provide short descriptions of the fatal accidents that occurred in the Cascades in the winter of 2007-08. Also provided are weather charts enabling readers to reach conclusions on their own. More complete accident reports are available on the Northwest Weather and Avalanche Center web site (www.nwac.us) and on the Westwide Avalanche Network web site (www.avalanche.org). I found writing about these accidents a sobering task.
Not included in the summaries and statistics, a back country skier went missing on April 27 while skiing on the west side of Mount Baker, likely due to an avalanche or crevasse fall. The skier has not been found.
| | | | | |
| --- | --- | --- | --- | --- |
| | | | | |
| Skier triggered slab avalanche in the Enchantment Lakes, April 24, 2008. Skier can be seen standing in the debris. Photo © Matt Peters. Enlarge | | Asa Mueller lends scale to a natural avalanche crown in White River Canyon, Mt. Hood, February 8, 2008. Photo © Tighe Stoyanoff. Enlarge | | Thirty feet of debris from a control avalanche across the highway at Tunnel Creek near Stevens Pass, February 9, 2008. Photo © Mike Stanford. Enlarge |

Reading the Hazards
Washington's 2007-08 winter season was unusual in that:

| | |
| --- | --- |
| • | La Nina winter contributed heavy snowfall in the Cascades. |
| • | Nine fatalities from avalanches compared to annual average of two. |
| • | A major widespread avalanche cycle occurred early in the season. |
Heavy Snow Winter
The chart below illustrates the snowpack growth at various locations in Washington and Oregon. The dates of the fatal accidents are indicated as follows:
1) Union Creek and Source Lake
2) Edith Creek
3) Excelsior Pass
4) Lake 22
Snowdepth is in inches, timeline is marked off in two-week intervals.
Fatalities Over the Years
The following chart shows annual Washington and Oregon avalanche fatalities for the past 30 years. Each bar represents the fatalities in a single winter season. Years without a bar had no fatalities. Average number of fatalities is about two per year. Data excludes the June 11, 1981, Mt Rainier icefall accident.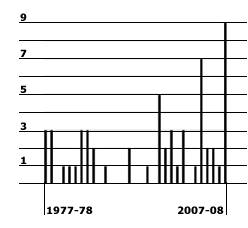 The chart below records the total avalanche fatalities each month from the 1974-75 season to the 2007-08 season, ordered from September to August. December is the most deadly month with 19 deaths.
NWAC Avalanche Warnings
The number of warnings issued by NWAC was quite a bit above average from December 2007 to February 2008 and again in May 2008. The following chart compares the warnings issued in 2007-08 compared to the monthly average.
NWAC Website Visits
Visitation statistics for the NWAC avalanche forecast web page (below) suggest that people do not pay as much attention to avalanche forecasts early in the winter as in mid winter. Perhaps the major avalanche cycle in early December 2007, combined with the fact that recreationists were less attuned to avalanche forecasts at that time, were factors in the fatalities this season.