"I need Carl's password," I explained to the tech-support operator. "You see, my brother died last autumn and we need to archive his website."
| | |
| --- | --- |
| | |
| | |
| | Moonrise over Eldorado Peak, March 1994. |
| | |
"Well, I can't give out the password to just anyone over the phone," she countered. "What is your father's middle name?"
A bit flustered, I gave her my brother's middle name.
"I'm sorry, but that's not correct," she replied.
"Whose name did you want?" I asked, determined to listen better this time.
"Your father."
"Oh, I'm sorry. Here it is..."
I gave her the right answer this time, and the technician typed a few keystrokes into her computer.
"Here's the password," she said. "Make sure to write it down... E-L-D-O-R-A-D-O."
"Eldorado," I sighed. "Thank you."
Carl's password solved the website problem, and it also resolved a question I'd been mulling for several months. After my brother's funeral in November, 2005, I took home three small cannisters of ashes. I wanted to scatter them somewhere in the mountains. I scattered one on a peak near the North Cascades highway the following May. I thought another should go near Cascade Pass, one of Carl's favorite places. But which peak? Carl's password gave me the answer.
| | |
| --- | --- |
| | |
| | |
| Mark Hutson south of Snowfield Peak in March 1983. | |
| | |
It was no surprise to me that Carl regarded Eldorado Peak as a special place. For me, the icefields surrounding Eldorado are the spiritual center of ski mountaineering in the North Cascades. Dwight Watson and friends were the first skiers to venture there, in the late 1930s. But their travels were limited by a tough approach and they never made it to the summit of Eldorado on their ski trips. About twenty years later, after the road was extended almost to Cascade Pass, a new generation of ski mountaineers led by Joe and Joan Firey discovered the Eldorado region. Starting in about 1960, they made several ski trips to Eldorado from the south, whereas Dwight Watson had been required to take a longer approach from the west. From their skiing high-point, the Fireys would typically climb to the summit on foot. In 1981, Jens Kieler and friends made a ski descent from the knife-edged top, probably the first party to do so.
I first skied Eldorado in March 1983, having climbed the peak in summer a few years earlier. After our ski crossing of the Ptarmigan Traverse in 1982, Gary Brill hatched the idea of a winter trip from Snowfield Peak to Eldorado, following a high route over Isolation Peak and along Backbone Ridge (see map, 500kb). Not surprisingly, this traverse was pioneered on foot by Joe and Joan Firey in the late 1960s. One visit to this area begs for another.
| | |
| --- | --- |
| | |
| | |
| | Carl Skoog skis the upper McAllister Glacier below Tepeh Col, May 1994. |
| | |
Gary and I were joined by Mark Hutson and Brian Sullivan. In three days, we skied from Pyramid Peak to Early Morning Spire, making winter ascents of Snowfield and Isolation Peaks along the way. On the fourth day we were pinned down by a storm that dropped about eight inches of new snow. The next day we pressed on through cloudy weather, managing to climb and ski Eldorado along the way before descending to the Cascade River. We were impressed by the scale and remoteness of the country, and we thought the name "Isolation Traverse" would be fitting. The name stuck.
I learned on this trip that North Cascade high routes are more difficult in winter than in spring, due to shorter days, harder trail breaking, and more fickle weather. I also learned that the direction you choose for a ski traverse has a big effect on the difficulty. Skiing the Isolation Traverse from north to south is considerably more work than the other way around, because it climbs more and because the profile is less favorable for gliding on skis. I concluded that it would be better to ski it in the opposite direction.
My brother Carl had never skied the Isolation Traverse, and he wanted to. So I had two excuses to repeat the trip: first, for Carl, and second, to ski the route from south to north. In May 1994 we got our chance.
We parked my car at the Pyramid Lake trailhead on the North Cascades Highway, then shuttled Carl's car through Newhalem and Marblemount to Eldorado Creek on the Cascade River road. We hiked and skied to the Inspiration Glacier during the afternoon, unloaded our packs, then skied unencumbered to the summit of Eldorado Peak in early evening. That night a full moon rose and Carl, always the more dedicated photographer, took time-exposures of the gleaming icefields after I passed out in the tent.
The next morning was calm and cool, without a cloud in the sky. We had camped next to a group of climbing instructors on a week-long training outing. After bidding them farewell, we shouldered our packs and traversed the Inspiration Glacier northward, leaving all signs of people behind. The Eldorado region is characterized by broad icefields split by black serrate ridges. Gentle cols provide easy ski crossings from one glacier to another. We passed from the Inspiration Glacier to the McAllister Glacier and skied down to the saddle between Eldorado Peak and Dorado Needle.
| | |
| --- | --- |
| | |
| | |
| Backbone Ridge from Isolation Peak. | |
| | |
The divide between the McAllister Glacier and the southwest flank of Backbone Ridge does not have a skiable crossing. There are two alternatives. The lowest crossing is a notch about a half-mile north of Dorado Needle at about 8000 feet elevation. It requires roped climbing in summer on the McAllister Glacier side. In spring the rock may be snow covered, but it may also have crevasse obstacles. (It varies from year to year.) My favorite spring crossing is about half-way between Dorado Needle and the 8000-foot notch. This crossing is higher on the ridge (nearly 8400 feet) and very scenic. Normally the west side requires some downclimbing on crampons over mixed snow and rock to a snow slope. (A short rappel might be helpful in leaner snow conditions.) Carl and I took the latter route because I was familiar with it from 1983.
Firm corn snow on the southwest flank of Backbone Ridge enabled us to glide from Early Morning Spire to The Coccyx, the most westerly peak on the ridge. Skis really proved their value here. Traversing the ridge in this direction was fast and almost effortless, while in reverse it would have been a long, slow climb on skins. We climbed and skied The Coccyx, continued northward, then skied a long gully into the western head of McAllister Creek. We skinned to the McAllister-Newhalem Creek divide and camped on the southwest shoulder of Isolation Peak.
The next morning we cramponed up frozen snow to the southeast ridge of Isolation Peak. Dropping our packs, we scrambled over rocks and matted evergreens to the summit. We admired the view of Backbone Ridge, with its vertebra-like summits and broad glacier slopes. The McAllister Glacier would have looked right at home in Alaska or Canada, with a high plateau of thick ice, a steep icefall below, and a snout extending into a low, flat valley.
| | |
| --- | --- |
| | |
| | |
| | Lowell skis Isolation Peak above the depths of McAllister Creek, May 1994. |
| | |
From the shoulder of Isolation we skied down to the lake just east of the peak. Then we skinned up the gentle divide leading toward Snowfield Peak. We climbed to the summit of Snowfield and skied the Neve and Colonial Glaciers to Pyramid Peak. We descended the northeast shoulder of Pyramid until we dropped below the snow line, then picked up a climbers trail to Pyramid Lake and the North Cascades Highway near Diablo, where my car was waiting for us.
Carl and I made other ski trips to the Eldorado region over the years. In 1990 we traversed from Monogram Lake and Little Devil Peak along Backbone Ridge, climbing Eldorado and several of the "backbones." In separate trips we explored the icefields northeast of Eldorado, climbing and/or skiing Klawatti, Austera, Primus and Tricouni Peaks. We talked about other trips we wanted to do. I fantasized about spending several days in the area, bivouacking on top of a different summit each night. But it was not to be, at least not with Carl.
Carl died in a ski mountaineering accident in October 2005. After I learned his website password, I resolved to climb Eldorado Peak and scatter some of his ashes on the summit. Paul Russell joined me for a ski ascent of the peak in July 2006. Though it was a sunny summer weekend, we were surprised to find no one else on the mountain. From the summit I gazed in all directions and reminisced about trips I had made with my brother.
After a leisurely lunch, I unpacked some mementos and Paul graciously took a few photographs for me. Then I scattered ashes from Carl and from my mother Ingrid, who passed away three months after he did. We finally decided to head down, enjoying good summer snow from the summit down the northeast flank of the mountain. The snow below the glaciers was melting fast, but on this day carrying skis all the way up to the icefields seemed well worth the effort. The sky was blue and the scenery was spectacular.
Carl would have approved.
--Lowell Skoog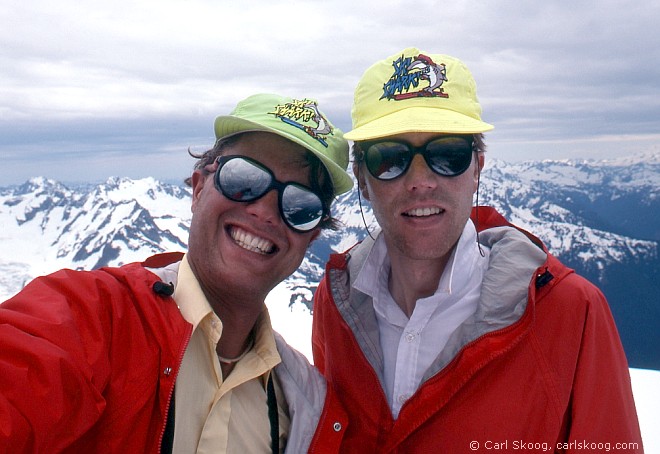 Carl (left) and Lowell on the summit of Eldorado Peak, June 1990.