In June 1982, I skied the Ptarmigan Traverse with Gary Brill, Mark Hutson and Kerry Ritland. It was my first ski traverse and my first time along the Ptarmigan. In three days, we completed the traverse, climbed four summits, and took extra ski runs on four different glaciers. It was the beginning of my love affair with traveling through high mountains on skis. In 1988, the fiftieth anniversary of the original Ptarmigan Traverse, my brother Carl and I skied the route in a single "flow day." This article was published in the March 1989 issue of Rock & Ice magazine.

—Lowell Skoog

In the heart of the North Cascades, the Ptarmigan Traverse is one of the classic high routes in America. Stretching from Cascade Pass to Dome Peak in the Glacier Peak Wilderness Area, it is a region of glaciers, lovely meadows and craggy rock summits.
The history of the traverse goes back fifty years, when four members of the Ptarmigan Climbing Club of Seattle pioneered the route, climbing all the major peaks along the way. Since then it has been traveled by hundreds of parties.
| | |
| --- | --- |
| | |
| | |
| | Carl Skoog pauses at Cache Col before sunrise, June 1988. |
| | |
Neglecting summit detours, the basic line of the Ptarmigan is about thirty miles long, with about eleven thousand feet of climbing (see map, 700kb). The usual style for making the traverse is to spend a week in summer backpacking the route, moving camp every day or two, and climbing summits along the way. Since none of the peaks are technically very difficult, a party can get by with just a lightweight collection of alpine rock climbing gear.
In the last few years, an alternative style has emerged. Ambitious ski mountaineers now arrive in May and June to gamble on the less reliable weather of spring. Many have been rained out, but those who have succeeded in skiing the route have been rewarded with pristine glacier runs, stunning campsites, and enjoyable snow covered summits.
Between 1982 and 1985, my brother Carl and I did the traverse in both of these styles. Since then, we wondered about the possibility of skiing the route in a single day. Initially, the idea grew out of a friendly competition. With a group of our skiing companions, we speculated on how quickly one could complete the traverse. Over time though, the idea took on a deeper meaning for me. Beyond the physical challenge, I wondered whether the mountains would seem any different when traveling light and fast on skis. Would they become simply mileposts in a race, or would I discover some aspect of them that I had missed on my previous trips? The idea intrigued me enough that I convinced my brother, and myself, to try it.
| | |
| --- | --- |
| | |
| | |
| Lowell crampons up the Middle Cascade Glacier toward Spider-Formidable Col. | |
| | |
On a cloudy evening in June, 1988, Carl and I drove separately toward the mountains after work. We met in Arlington, where a branch of the North Cascades Highway heads east into the hills. By the time we had parked a car at each end of the traverse and settled into our sleeping bags at the Cascade Pass trailhead, it was 10 p.m.
Three hours later we got up. I would have claimed I hadn't slept at all except that a deer had dragged one of my boots a few yards away and I hadn't heard it. By headlamp we assembled our day packs, munched a few granola bars, and started off.
The forecast predicted clearing weather, but there was no evidence of it yet. We were in fog that made the darkness seem cold and oppressive. When we reached snowline we promptly lost the trail. By sniffing around with headlamps were we able to locate some faint tracks and follow them like bloodhounds to Cascade Pass.
Since we could see almost nothing, the pass was revealed only by flatter ground and a blast of cold wind blowing through it. We climbed up a shoulder, then started a traverse toward the Cache Glacier. The few trees and rocks around the pass quickly disappeared and we found ourselves with no landmarks for navigating--just steep snow cut by avalanche runnels and mist that dispersed our headlight beams in a few feet. Since I knew there were cliffs above and below this traverse, I had to rely on faith in my memory of the route. We chose a trajectory and stuck to it, kicking steps into the void.
Gradually, like an apparition, a faint outline appeared above us. I recognized the shape of Magic Mountain and Mixup Peak to the right. Overhead, stars were appearing. As I had hoped, we were nearing the edge of the fog. With a slight change of wind, the mist withdrew. Abruptly our world changed from a white plane floating in the void to a broad snow slope that connected us to mountains, cliffs and valleys. The change was so startling that we braced ourselves for a moment to maintain our balance. Happily we realized that we were right where we wanted to be.
| | |
| --- | --- |
| | |
| | |
| | Carl carves a turn on the glide path to Yang Yang Lakes. |
| | |
Behind us the fog bank gripped Cascade Pass like a ghostly hand. Misty fingers curled over the pass. Ahead the valley and summits were clear. We could see moisture from the wetter, Pacific side of the mountains dissolve as it flowed along those fingers toward the drier, inland side. The snow underfoot grew crusty and hard, so we teetered for a few moments and put on crampons. As we crunched up the glacier toward Cache Col, the stars began to fade in the growing light.
Just beyond Cache Col is Kool Aid Lake, a tiny pond commonly used as the first campsite on the traverse. Three tents were pitched next to the lake. The party was still sleeping, except for one fellow who had risen early to photograph the dawn. We chatted for a while and he thanked us for wandering into his picture, since he couldn't get anyone else out of bed. He was the only person we would see on the entire route.
Our early start made skiing impractical on this section. In 1982 I had skied all the way to this point, but with frozen snow it was too risky now. Instead, Carl and I continued on crampons to the saddle between Spider Mountain and Mount Formidable. There we crossed from shady north facing slopes to sunny south facing ones. We stopped to eat some more granola bars and put on our skis.
As I rested in the sun I thought of the original Ptarmigans, fifty years earlier. In 1938 these mountains were almost completely unknown. Climbers had visited the ends of the route and had reached one or two peaks near its middle, but had returned to the valleys immediately. No one had explored the high country along the Cascade divide. Those were the days of nailed boots and sketchy maps, long before helicopter rescue was even imagined, when an expedition into a backyard range like the Cascades was more committing than all but the most remote journeys today.
| | |
| --- | --- |
| | |
| | |
| Carl (left) and Lowell take a water break near Le Conte Mountain, June 1988. | |
| | |
Bill Cox, Calder Bressler, Ray Clough and Tom Myers had just the right combination of energy and pluck to pull it off. Along with Will F. Thompson and several others, they formed the hard core of the Ptarmigan Climbing Club. They were headstrong individualists, bound by a shared passion for the mountains, but as Bressier once said, "ready to argue at the drop of a cornice."
One story describes how Thompson and Cox tackled a jagged ridge one cloudy July 4th: "Shortly we spied them through rifts in the fog--Cox on one needle, Thompson on another, the rope looping downward into the gulf between them. Typically-Ptarmigan they had disagreed and gone independent ways. Luckily their objectives lay within the length of a climbing rope or one of the most horrible and least comprehensible of Cascade climbing tragedies would have been recorded."
These differences didn't hamper the foursome that set out in July, 1938 for Dome Peak. In thirteen days they climbed fourteen summits, nine of them either first ascents or new routes. They pioneered the entire alpine route to Cascade Pass and then hiked all the way back to their Model A Ford via the Stehekin River and Suiattle Pass, a feat that has probably never been repeated in its entirety. Their journey ranks among the finest achievements in American mountaineering.
| | |
| --- | --- |
| | |
| | |
| | Carl traverses above the South Cascade Glacier near Sentinel Peak, with Mount Baker in the distance. |
| | |
For Carl and me, the opportunity was not to explore new terrain but to discover a new experience. Over ten years of ski mountaineering and several long traverses, I have found that one of the most satisfying, yet most fleeting, sensations of high country skiing is a certain feeling of movement. [1]
This feeling is familiar to anyone who has driven a car on an open highway. The closest objects, like fence posts, pass so quickly that they are just a blur. Farther away, trees and houses pass gradually. Finally, hills on the horizon wheel by almost imperceptibly. The overall effect is to add scale and depth to one's perception of the landscape. It is a feeling that is almost missing when traveling through the mountains on foot, but that comes alive on skis. It is a feeling of freedom.
That is what Carl and I felt as we shouldered our light packs and pushed off from Spider-Formidable Col. Beneath our feet the texture of the snow was a blur. Farther away, islands of rock and heather passed effortlessly. In the distance, the valley of Flat Creek and the Le Conte Glacier wheeled gracefully before us.
| | |
| --- | --- |
| | |
| | |
| Lowell skis from the South Cascade Glacier down to White Rock Lakes. | |
| | |
We covered the mile and a half from there to Yang Yang Lakes in just a few minutes. The last time I did the traverse, it took two days to reach this spot. Now it was 8:30 in the morning. A perfect time and a perfect place for breakfast.
The rest of the morning followed suit. We climbed up to a ridge, then glided along a contour, crossed a glacier col, then carved a pair of tracks down the other side. We reached White Rock Lakes, day three on my last trip, in time for lunch. Since fatigue hadn't taken hold yet, we laughed at our good fortune. We were all on our own, out in the boonies, and loving it.
Reality started to catch up with me on the last major climb of the route, a two thousand foot pull up the Dana Glacier to Spire Point. In mid-afternoon we sprawled on rocks at its top for a rest. My granola bar supply was holding steady. In addition to plenty of other food, Carl and I ate thirty-two granola bars between us that day. Amazingly, I still like them.
From that point it was mostly downhill, in more ways than one. We made our way to Bachelor Creek by early evening, then started a struggle with the overgrown trail that would last well into the night. Fatigue became numbing. At one point I slipped off a greasy log and fell up to my waist in a creek. Alder branches snagged our skis. We scrambled over fallen timber, thrashed around it, or crawled beneath it.
| | |
| --- | --- |
| | |
| | |
| | Carl climbs the Dana Glacier. |
| | |
Stumbling along the trail by headlamp in wet sneakers, I had plenty of time to think about whether, on balance, it had been worth it. My feet said no, but my heart said yes.
We plodded into the picnic area on the Suiattle River road around 11 p.m. There was no one waiting for us, not even our car. Due to a road closure the previous night, we had been forced to park five miles down the road. We rolled out bivi sacks and slept there in our clothes.
I didn't know if we had set any speed records, and I no longer cared. Any thoughts of racing had disappeared. Instead I was struck by how my perception of the traverse had changed. It wasn't that the route seemed any shorter--no, my sore muscles prevented that impression from forming. It was that I now grasped the entire traverse as a whole--as though we had written our tracks across it in one flowing stroke.
Though we climbed no summits, I felt more satisfaction than on many climbs. Though we saw no new country, the country seemed new to me. I realized that hurrying through the mountains does not necessarily mean losing sensitivity to them. Rather it can be a way to embrace them more fully. It was an experience I would gladly repeat.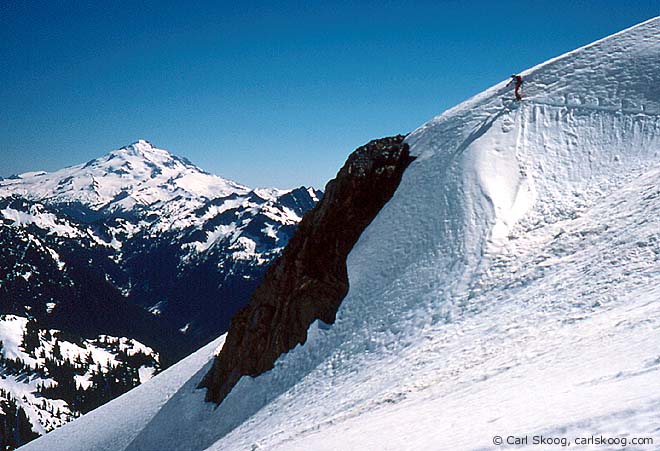 Lowell traverses west from Spire Col near the end of the Ptarmigan Traverse, with Glacier Peak in the distance.

[1] When I wrote this story in 1988-89, I struggled for a word to describe the experience of high-country skiing. I used the word "movement" but was never satisfied with it. A few years later, I read the 1990 book Flow: The Psychology of Optimal Experience by Mihaly Cziksentmihalyi. "Flow" was the word I had been searching for. Cziksentmihalyi's concept of flow not only describes the physical sensation of skiing, but also the state of mind.
--Lowell Skoog