A few hours' mountain climbing turns a rogue and a saint into two roughly equal creatures. Weariness is the shortest path to equality and fraternity—and liberty is finally added by sleep." —Friedrich Nietzsche

Prologue: Austera Ridge

Minus the saint, Nietzsche's observation fit Rolf Larson and me as we tuned up our nascent partnership with an alpine climbing outing in August 2008. We had been cragging together only a couple times and knew each other just well enough to exchange mock insults. We aimed for an obscure but eye-catching tower deep in the hinterland of North Cascades National Park. In a John Scurlock photo, Rolf had spotted some potential on the northern aspect of Tillie's Towers, the NW highpoints of Austera Ridge. We took advantage of a passable three-day forecast to climb the best looking line, the North Aręte of West Tillie's Tower, a 5.9, Grade III route.

We learned that our partnership, while mutually abusive, worked well—we shared similar sensibilities concerning strategy (fast and flexible), style (as pure as possible), and communication (cantankerous and curmudgeonly). Few of these things can be discussed ahead of time; only by actually sharing the entire process can two people learn if they are compatible in the mountains. Rolf was unquestionably a capable alpinist, and this foray left me confident that we could pursue more grand objectives.

We also seemed to share an appreciation for the absurdity of alpine pursuits. Mountain climbing is a "sport" that is not always fun. Pioneering a new route is an expression of creativity, but the action creates nothing that wasn't already there. It is like performance art with an audience of one.
| | | | | |
| --- | --- | --- | --- | --- |
| | | | | |
| Tillie's Towers from the North. Photo © John Scurlock. | | Rolf Larson leading the 3rd pitch on Tillie's Tower, North Aręte. Photo © Eric Wehrly. | | McAllister Glacier from Austera Ridge. Photo © Eric Wehrly. |
Charged by our small success on Tillie's Towers, we agreed to tackle something more ambitious. I suggested a complete ascent of the eastern aspect of the unclimbed "Hardest Mox" Peak, which had thwarted suitors for decades. While the east face dominates one's view (and psyche), I figured that the NE buttress, which frames the northern edge of the face, would offer more reasonable passage. Rolf was agreeable, and we hoped for an unlikely alignment of schedules and weather. Early in September, a stable high pressure system was predicted and we were luckily able to get away at the same time.
The Problem
Fred Beckey writes in his Cascade Alpine Guide of Twin Spires (also known as Mox Peaks): "The dark rock and remarkably steep profiles of Twin Spires add a special blend of rugged form to the North Cascades. Their bold distinctive outlines attract the eye from all directions… Both spires provide challenging and seldom-done ascents, and the summit of the SE Spire is one of the most difficult to attain in the Cascade Range." The infamous SE Twin Spire (8504ft) is one of the few peaks of which Fred has been genuinely terrified, as he wrote in his autobiography, Challenge of the North Cascades. The peak nearly killed him on June 22, 1941, during the descent, when a piano-size boulder of unstable Skagit Gneiss he was standing on began sliding down a steep gully.
We were after one of the "last great problems" of the North Cascades. "Last", because the 8501-ft sub-summit east of the SE Spire, often called "Hardest Mox", had no known ascent. "Great", because these are high, remote peaks in the Cascades, and the east face of "Hardest Mox" rises 2,500ft from the talus below—a great wall by most anyone's measure. And "problem", because of the formidable obstacles of access, rock, and intimidation that this wall presents.
Rowland Tabor and Dwight Crowder described the access problem in their 1968 book, Routes and Rocks in the Mt. Challenger Quadrangle: "The Mount Challenger quadrangle lies in one of the most inaccessible areas of the North Cascades. Here, in the Picket Range, is some of the most spectacular mountain scenery in the United States. Here also is the core of the proposed North Cascades National Park where summit names alone— Challenger, Fury, Terror, Inspiration—give hint of the topography and suggest why it attracts the mountaineer… The Picket Range and the adjoining Custer Ridge (the Redoubt-Spickard divide [including Mox Peaks]) are some 20 miles west of the main Cascade Crest and thus bear the brunt of ocean-borne storms… The brush in valley bottoms and on avalanche tracks is thick, formidable, and wisely shunned by alpine pedestrians."
Cascade historian Harry Majors described the rock of the Mox Peaks as follows: "Judging from a view of the SE Spire from the north, the as-yet unclimbed east peak (8501ft) constitutes a huge separate block of Skagit Gneiss, in contact with, but yet detached from, both the main west summit (8504ft) and from the east face by two shear zones. There are a number of higher unclimbed peaks and points remaining in the North Cascades, but none as difficult, dangerous, inaccessible, and potentially deadly as point 8501. Most climbers on the SE Twin find the route normale harrowing enough, without having to add to one's difficulties by tackling the unclimbed east peak."
| | | |
| --- | --- | --- |
| | | |
| | Aerial view of Mox Peaks (Twin Spires) from the NE. Photo © John Scurlock. | |
On the subject of intimidation, the 2006 NWMJ provides an engrossing account of the August 2005 climb by Mike Layton and Erik Wolfe, which ascended the right side of the east face, somewhat left of our intended line on the NE buttress. Their climb turned back just short of the top (about 8,200ft) because, as Layton later wrote: "We felt that if we summited we would have climbed past the point of no return." For decades, the face's intimidating reputation has been passed along by Cascade legends. Numerous attempts were rebuffed. From time to time, I pored over photos of the peak's east face on John Scurlock's website, and views of the face rising up like a rogue wave sent a surge of terror through my soul—and I had never even personally laid eyes on it. Yet the rational side of my mind was confident that we could handle the challenges, and the previous parties' efforts showed that retreat was possible.
The Climb
On September 11, we started up the Little Beaver trail from Ross Lake. About five miles of hiking were followed by five more miles of arduous and brushy cross-country travel up Perry Creek. The valley breeze carried the fresh stench of bears. A few miles from the peak, the brush opened temporarily so that we could see our objective dominating the basin ahead. Naturally, I wanted to study the peak for weaknesses to climb, but the natural reaction was instead a forced deference.
After nine hours of effort we reached a bivouac site on gravel at 5,000ft in Perry Creek Basin. We had just enough daylight to gawk at our intended line as we cooked dinner. Though the approach had been taxing, spirits were still high, if a little daunted by our looming objective. Sleep that night came uneasily, as our dreams were twisted by the gravity of Mox's hulking mass.
The next morning, we finished the approach over loose talus to 6,000ft and began climbing the wall. We soloed, simul-climbed, and occasionally pitched-out the initial 1,000ft of 5.8 and 5.9 rock. The steepest pitches in this section were highlighted by a Rolf's lead of a dirty, shallow and exposed corner, requiring awkward 5.9 moves with funky face holds and turf for feet. I led a steep, positive corner, but eventually was forced out into face climbing, as I skulked under, around and away from blocks mysteriously attached to the wall. Rolf said his lead had "got a little out of control," but he was unrattled. With about one-third of the route behind us, the climb seemed to be going well—we were finding a way. However, the uncertainty above added tension to our progress.
About 1,000ft up we arrived at a platform that would have made a good bivy site, marked with an old bolt and a piton, presumably the high point of an attempt in the 1950s or '60s. From there we began to tackle the 800ft headwall above. The headwall involved five steep pitches with difficult route-finding through roofs. I left the platform up run-out but enjoyable 5.9 face climbing where I passed the 2005 party's rotting rappel anchors. As I finished this demanding pitch, my hands cramped, making further leading unsafe for me. Fortunately, I found a decent belay and Rolf soon joined me. I downed some food and water, and Rolf shouldered the yoke, plowing up the first of three challenging leads.
| | | | | |
| --- | --- | --- | --- | --- |
| | | | | |
| Rolf Larson leading through the roofs. Photo © Eric Wehrly. | | On the summit of "Lemolo Peak." Photo © Eric Wehrly. | | Traversing towers to SE Mox Peak. Photo © Eric Wehrly. |
The second of Rolf's pitches was a thing of alpine climbing beauty—steep, committing, varied climbing requiring a cagey veteran's bag of tricks. This crux pitch cranked up the exposed headwall, forcing Rolf to reach into his puny reservoir of solid. He pulled a clutch effort, cruising sheer stretches of 5.10 above difficult gear. Rolf's third pitch required tricky route-finding that weaved between roofs, but was thankfully better protected. After this pitch and more food and water, my hand cramping eased, so I could safely lead again. I found a rare, splitter hand-crack flanked by loose blocks, and as the sun dropped low we topped the vertical headwall in time to locate a scenic bivy on a platform exposed to the east face. We enjoyed an expansive sunset view of grand mountains. Hozomeen, Jack, Prophet, and the Northern Pickets glowed in the alpine light.
We had climbed the most difficult section of the wall to 8,200ft and were ecstatic. So far, it had been an aesthetic alpine route full of engaging challenges. While we could have pressed for the summit by nightfall, we knew that the non-trivial descent would not be safe in the dark. Also, we reckoned that a relatively sheltered camp perched above the east face would be preferable to a colder, more exposed summit bivy. Temperatures were plummeting, and the night became unseasonably cold. To save weight, we'd brought jackets and our backpacks as our only bivouac gear, which normally would have been mildly uncomfortable, but in this case proved horribly insufficient. The ensuing shiver-bivy seemed a fair price to pay for our adventure.
On the morning of September 13, we completed three pitches (with some scary stacked blocks) to the unclimbed summit. We decided that "Lemolo Peak" would be a worthy appellation for this 8,501-ft point. "Lemolo" is Chinook jargon for "wild" or "untamed", and we have no doubt that this beast offers more adventure for brave souls willing to tackle the unclimbed direct line up the east face.
We paused only briefly to soak in the unique views. After a long rappel, we traversed gendarmes on the ridge to SE Mox then rappelled the standard climbing route on that peak. We continued descending the southwest flank via heinously loose gullies to the unnamed southern glacier. This tried our desiccated patience. Hunger, thirst, and weariness were overcome with choice words and invective during the tedious descent, as we tried not to chop our ropes en route to the glacier.
An ice axe and one crampon each dispatched the mandatory snow travel, and we found water a couple thousand feet above camp. We descended steep slabs and traversed unsavory firm moraine, eventually circling to our camp in Perry Creek Basin late in the afternoon. A celebration ensued: we devoured a big meal, capped with beers, bourbon, and chocolate. The stress of the descent subsided, and we could again breathe easily, give voice to our feelings, and generally resume abusive behavior. Looking back at the descent, phrases like "I'm not happy until you're not happy" seemed appropriate.
| | | |
| --- | --- | --- |
| | | |
| | Parting view of "Lemolo Peak" from Perry Creek Basin. Photo © Eric Wehrly. | |
Those who seek adventure in the Cascades will enjoy this route. We recommend it. Rolf described the climbing as "cerebral." Future parties will find excellent, well-featured gneiss—particularly in the hardest sections—along with some loose rock, long run-outs and stacked blocks. However, these modest detractions are more than overcome by spectacular position in a truly wild place.
Epilogue
In Thus Spake Zarathustra, Nietzsche wrote, "He who climbs upon the highest mountains laughs at all tragedies, real or imaginary." There is truth in these words. The trials of a committing climb provide a fresh perspective for everyday life. But that perspective fades with time, and a gnawing need for renewal inevitably returns. I suppose that's why my favorite climb is often my most recent one.
I sometimes wonder why it's "necessary" to do this stuff at all. Climbing mountains can lead to flow, a Zen-like state where thought and action become one. But once moved by this experience, the climber seems to need it more and more. It's often said that you must "feed the rat"—indulge your passion for the mountains—or be eaten by it from the inside. So alpinism fosters Zen but sets up a cycle of craving that is its opposite.
The French mountaineer Lionel Terray called climbers "conquistadors of the useless." This phrase makes me laugh because it is so true. In retrospect, I think our peak could just as well be called "Mox Nix Peak." A saying that my WWII-veteran grandfather introduced me to, "Mox Nix" derives from the German idiom, "macht nichts." Translated simply, "It doesn't matter."

Summary
Route:
ESE Mox Peak ("Lemolo Peak")
8,501ft summit
NE Buttress, "After Hours"
Grade V, 5.10-
2,500-ft elevation gain
Party:
Rolf Larson
Erik Wehrly
Itinerary:
• September 11, 2008
Take Ross Lake water taxi to Little Beaver trailhead, hike to Perry Creek Basin.
• September 12, 2008
Climb NE Buttress past the major difficulties (about 8,200ft), bivi with minimal equipment.
• September 13, 2008
Complete first ascent of east summit of SE Mox Peak, traverse gendarmes on virgin ridge leading to SE Peak. Descend SW gullies back to Perry Creek Basin.
• September 14, 2008
Return to trailhead, water taxi, and drive home.
Route Photo:
White line indicates the route of ascent. Photo © John Scurlock.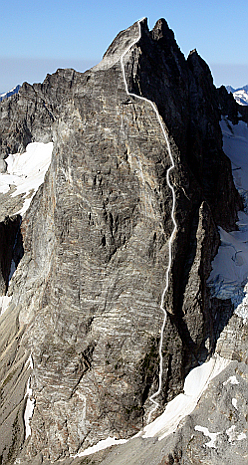 Description
Recommend medium alpine rack with emphasis on smaller gear; some parties may want pins.
A bivy in Perry Creek basin, together with an early start, might enable a party to climb and descend in one long day. Whether using a water taxi or hiking along Ross Lake, expect the trip to take a minimum of three days.
Descent requires first climbing SE Mox Peak. Make one long rappel from Lemolo to the notch in the ridge between Lemolo and SE Mox. Then pass a first gendarme on its north side, and climb the next directly.
The traverse to SE Mox is then straightforward. Make two rappels of SE Mox's west ridge, then rappel and down-climb the prominent gully southwesterly, eventually reaching the unnamed southern glacier.
Finally, descend the glacier in an easterly direction, find a route through the steep slabs of the cirque, and then contour north back to camp.